STEP1
Please select "smart pit payment" from the Fami port screen.
* You can change the display language from the "LANGUAGE" button on the top right. The languages supported by Smart Pit service are 6 languages including Japanese, Chinese, English, Korean, Portuguese, Russian. ※ This site will be a description of the Japanese screen.
STEP2
Please enter "smart pit number (13 digits)" and press "OK" button.
STEP3
Your bills are shown in the screen. Touch the item(s) to select your bill(s) to pay. Press OK to continue.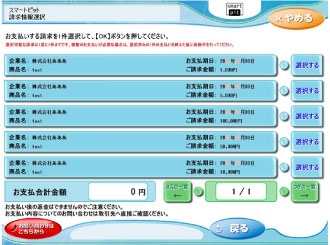 STEP4
Please check the selected item(s) again and press "OK" button to print your bill.
STEP5
Your bill is printed. Please take the printed bill to the cashier and make a payment ※ Printed bill expires in 30minutes. In the case it expires, please start over again from step1