For Voice+Data SIM card
Shipping to the address on your document
Pick up at our Shinjuku office

Residence card

(MUST submit both sides)

〇
・MUST show your current address
〇
Passport (including Japan Passport)
〇
Passport + Utility Bill ※①
〇

Japanese driver's license
(MUST submit both sides)

〇
・MUST show your current address
〇

Japanese insurance card
(MUST submit both sides and cover 3 parts. See ※③)

〇
・MUST show your current address
〇
Japanese "My number card"
(MUST submit both sides and cover the "My number" part)

〇
・MUST show your current address
〇

Embassy ID card
(MUST submit both sides)


〇
・MUST include the address proof※②
〇
For Data ONLY SIM card / Pocket WiFi
Shipping to the address on your document
Pick up at our Shinjuku office

Residence card

(MUST submit both sides)

〇
・MUST show your current address
〇
Passport (including Japan Passport)
〇
Passport + Utility Bill ※①
〇

Japanese driver's license
(MUST submit both sides)

〇
・MUST show your current address
〇

Japanese insurance card
(MUST submit both sides and cover 3 parts. See ※③)


〇
・MUST show your current address
〇
Japanese "My number card"
(MUST submit both sides and cover the "My number" part)

〇
・MUST show your current address
〇

Embassy ID card
(MUST submit both sides)


〇
・MUST include the address proof※②

〇
※① For the utility bill, we only accept water, electricity or gas bills that were issued within 3 months in Japan.
This must be under your name and must have your current address on it.
Example of an electricity bill :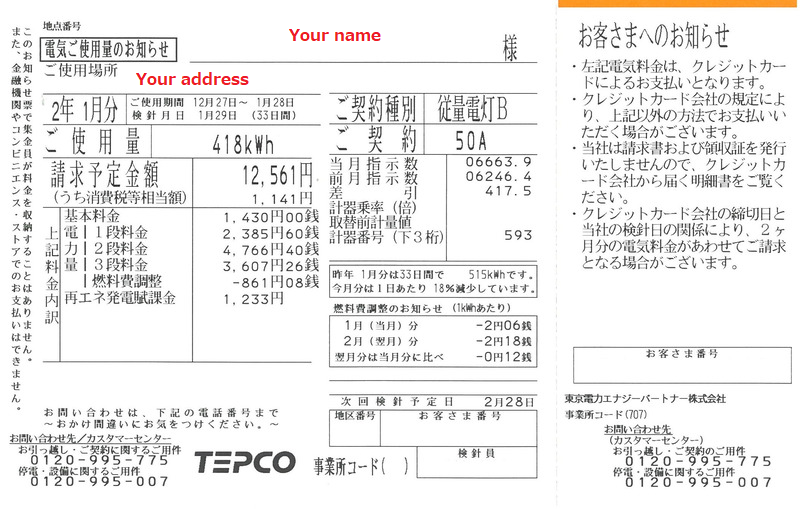 ※② The address proof document is called the "certificate of residential address in Japan".
You can find the application document here : https://www.mofa.go.jp/ms/po/page22e_000814.html
This certificate must be approved by your Embassy.
※③ MUST cover the parts circled in RED!!! (If we can see the numbers, we will have to ask you to upload it again)